Summary of new features in this release.
Confidence Bar in Search Results
CrushBank users can now see the confidence of each search result item when conducting a search as shown by the blue bar below.

The higher the blue bar as seen with the first result above, the higher the confidence match of your search term. Marking an search item as helpful or not helpful will adjust the relevance accordingly for future searches.
*Please Note: Full bars represent an almost EXACT document content match. Middle and lower confidence results are often excellent and will give you exactly what you are looking for.
Resolve within ServiceNow
Crushbank Resolve is now available within ServiceNow. Customers using ServiceNow, who have an active ServiceNow integration within CrushBank, now have the ability to automatically search the contents of the tickets they are working on directly in CrushBank within the ticket view itself.
Resolve takes the content from the ticket title and the summary notes to formulate a query of the data set and then uses that data to return the most relevant documents in a matter of seconds. Every ticket can be worked based on the complete set of available information by a machine, in a matter of seconds; by the time the engineer engages CrushBank Resolve and selects a ticket to work on, a complete picture has been painted and its simply time to leverage their skills and solve the customer issue.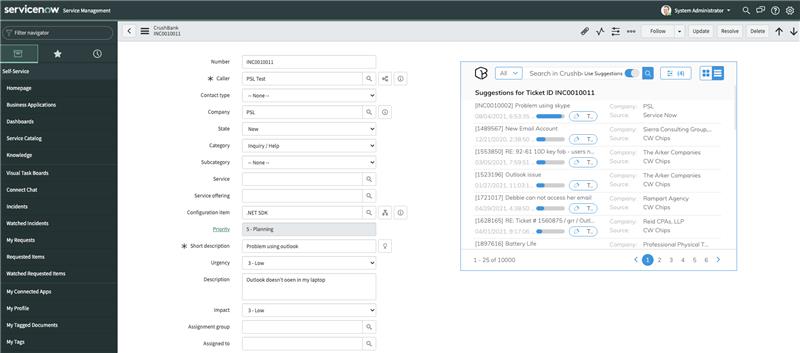 For instructions on setting this up, please refer to the following documentation.
https://support.crushbank.com/knowledge/configure-crushbank-into-service-now
Reduced Padding on Detail View
Crushbank has reduced the padding of the detail view for a better UI experience, allowing more data to fit within the detail view without having to scroll.