Allows you to ingest documents and URLs to CrushBank on the fly.
CrushBank offers the ability to ingest custom documents and urls as files within your library that technicians can leverage when troubleshooting issues. The custom upload button is located on the top navigation menu, to the left of the gear icon as seen below.

Administrators can turn this feature on and off for users by going to the User Profile and checking / unchecking the Add / Edit document checkbox.

Often times, a technician may run a google search if they cannot find the answer using CrushBank. If they find a solution using Google, CrushBank allows them to quickly copy and paste the URL into CrushBank, at which point CrushBank will parse the URL in a text friendly format and ingest the contents for future searches.
Note: This feature won't work for URL's that are password protected.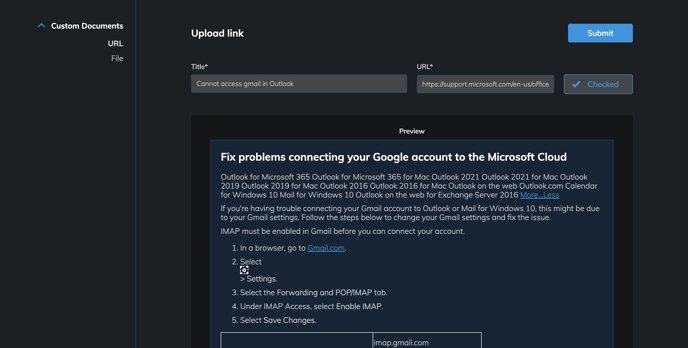 There is also an option to upload files as you see above in the left hand menu. This can be beneficial if the technician has a library of documents on his local computer, or if he/she simply drafts a new document outlining the steps to resolution and want to add it to CrushBank. The ingestion by file accepts individual documents as well as zip files.